---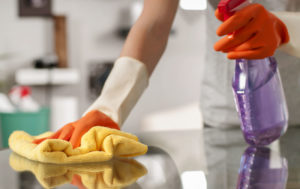 Does your house look like tornado alley? Are you sick and tired of feeling sick and tired and hate feeling like you can't ever have company over?
The solution to your problems may lie in creating a simple daily routine to help you get your mess under control once and for all. Read on to learn more about how you can create the perfect cleaning plan for your home.
Achieving a clean and clutter-free household can be easy if you create a schedule that works for you. Let's get started!
The Game Plan: Creating a Cleaning Plan by Zone
Cleaning can be a tough job, but with proper scheduling, it can also be a piece of cake. You might feel overwhelmed by the mess initially. This is why it's important to start small. Don't rush to take on too much at once, as this can lead to burnout. Doing too much at once will hinder you from accomplishing your goals.
Creating zones can help you to break down the workload. You can zone your clutter by room or by clutter type.
If there's a certain room where you enjoy spending most of your time, you may choose to start there. Creating a relaxing space can help motivate you to continue your efforts. You'll see just how much a little elbow grease can do to create a sense of calm in your life.
Zones can be rooms or items. Papers, for example, is a great example of how to zone by item. Creating one master stack of all the important papers in the house can help you reduce the amount of surface space that gets covered in clutter.
While it may seem impractical to put all the papers in the home in a single stack, this is only temporary. Once all the papers are assembled, you can begin to sort them. Keep the pieces necessary and throw away any duplicates. 
As you find your rhythm, you can keep up the good work by designating certain days for certain zones. Don't stop now, you're a clutter fighting warrior!
Start the Clock: Cleaning in Increments
Evaluating your available time enables you to allow enough time on everything. Life isn't just about cleaning, so we need to ensure that cleaning isn't something that takes all day. After all, we need to allocate time to enjoy life.
The bottom line is, you don't need to spend all of your non-working hours cleaning your house. By working in short, timed intervals, you can ensure that you have a clean and tidy home, so you can have friends or family over to properly enjoy your space!
If you only have an hour spare time each weekday, you may want to create a cleaning schedule that lets you deal with the most important rooms in the house. You can break this time up throughout the day.
If you're also working by zone, this may mean 10 minutes picking up laundry and sorting it. Later in the day, you may have time to throw your first set of laundry in the wash and fold whatever is in the laundry. At night, you can fold and sort your clean pieces. The remaining time can be used to pick up some of the mess that happens throughout the day.
Call in the Professionals
Need a jumpstart? We're here to help when things get a bit overwhelming. If you need help getting started, we're here to assist!
We'll help you get your cleaning plan back on track so you can start enjoying your space again. For more information and valuable cleaning tips, visit our website.
---
---