---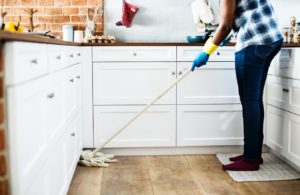 After a week of nonstop meetings and client calls you're ready to sit back and relax with Netflix and takeout.
Well, you would be ready for that if you just didn't get a text from someone saying that they're in the neighborhood and will be dropping by in the next hour.
We've all been there: your company is ready for you but you're far from ready for your company.
If you need a quick guide on how to clean quickly, you've come to the right place. Follow our cleaning checklist, and you'll have your place ready for company in no time.
Our Quick Cleaning Checklist
Sometimes there isn't enough time to deep clean the house for company. You may not be able to leave everything pristine and magazine shoot worthy, but we can help you get your house ready for company in little to no time.
When you're quickly preparing your house for company, make sure that you focus on these areas to get the maximum clean feel for minimal effort.
Take a Whiff
Want to know what's worse than having your guests see a dirty home? Imagine greeting your guests with a whiff of yesterday's garbage or the cat box.
We can all be a little "nose blind" when it comes to our home. But if there's something that smells off in your home, your guests will notice it as soon as they come in.
Even if you think everything smells fine, spray a little air freshener and spray your couches with some fabric deodorizer. Also, consider getting an oil defuser or potpourri to add a nice smell to rooms.
Check the Entryway
Take a little time to clean up your entryway to make the house feel a little more put together.
Take some time to neatly arrange coats and put away any shoes you don't need. Tidying up shoes and coats makes the entryway look nicer, and it gives your guests more space for their things.
It also won't hurt to break out the broom or vacuum for quick cleaning.
Hide the Dishes
When you're a few minutes away from an unexpected visit, the last thing you want to do is spend time and energy on washing the dishes.
Keep those dirty dishes out of sight by putting them in the dishwasher. Don't worry about pre-treating them, you can take care of the dishes in earnest once your company is gone.
You can still hide dirty dishes if you don't have a dishwasher. Fill your sink with warm soapy water and let your dishes soak. The soapy water will hide the dishes, and it'll make them easier to clean when you have the time.
Check the Bathroom
If you're going to put any effort into cleaning before your guests come, focus on the bathroom.
There's nothing more noticeable (and gross) than a filthy bathroom. Your guests may have to use it when they visit, so make the experience nice for them.
Since you don't have time for a deep clean, simply wipe down bathroom surfaces with some disinfectant. Pick up any clothes or towels that may be on the floor and put them in your hamper.
If you have time, try to give your toilet a quick scrub. To make emergency cleaning easier, look for an automatic toilet cleaner in the future.
See What's Out of Place
Is there mail scattered across the kitchen table? Do you have some old laundry thrown on the floor?
Our brains like to take notice of things when they seem out of order, so your guest's eyes will naturally be drawn to whatever doesn't look right.
The easiest way to clear away clutter before your guests arrive is to simply hide it out of sight. You can organize and clean it later, but move things to a room where guests won't be to make things easier on yourself.
Get Your Home Ready For Company
If you follow our cleaning checklist, you won't have to worry about making a bad impression on guests. Taking care of some little things can leave a big impression!
If you want to avoid being surprised by guests, it's time to look into hiring a maid service so your home can look gorgeous whether or not there's company!
Contact us today so we can figure out the best cleaning service plan for you.
---
---